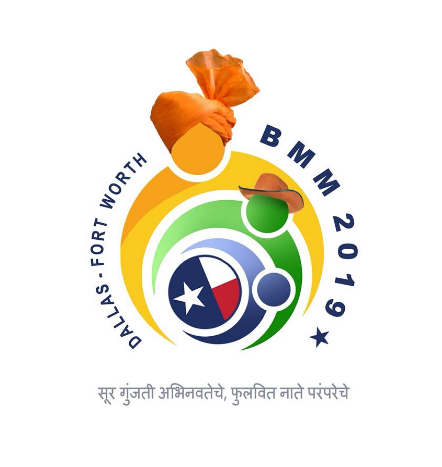 Bruhan Maharashtra Mandal is a non-profit umbrella organization in North America set up to preserve and promote the rich Marathi culture from the western state of India, Maharashtra. It has over 60 local chapters across North America. BMM biennially organizes convention in North America. BMM 2019 will be held in Dallas in July 2019.
For more information and tickets please visit
Bruhan Maharashtra Mandal Convention 2019
 BMM Scholarship Awards 2019 
The awards are targeted for BMM youth members to recognize and encourage our Marathi youth members for their contributions, potential, and active engagement in Marathi Mandals. BMM will award a total up to five scholarships (around $1,000 per recipient) at the time of the 2019 Convention. BMM reserves the right to cancel the 'BMM Scholarship Awards' if BMM receives fewer than 20 eligible applications.
Eligibility & Requirements:
Any student entering a four-year degree college or an accredited two-year community college or is
currently in the first year of their college education is eligible to win this award. The nominee will
need to have an excellent academic record and extra-curricular activities, including engagement in
actively preserving their sense of Marathi culture, identity, and heritage. Immediate family members
of BMM Board of Trustees and Executive Committee (EC) members are not eligible to apply for the
'BMM Scholarship Awards'
Scholarships will be awarded based upon:
a) Letter of acceptance or proof of enrollment to a year degree college;
b) Latest transcripts of first-term of the senior year of the high school or college
documenting GPA
c) Evidence of the standardized test scores (SAT and/or ACT)
d) A Personal Statement
e) An essay or video presentation: topic should describe the applicant's work on
'Engaging youth in the preservation of Marathi culture through language, art, traditions'
OR
Applicant's ideas and insights in growing the participation and involvement of
younger generation within the activities of Maharashtra Mandals or BMM
f) A recommendation from one current member of the local registered BMM member
Mandal
g) Endorsement from the President of the local registered BMM member Mandal that the
applicant or the parents/guardians of the applicant are members of for the current year
Applications and the supporting documents can be submitted by April 15th, 2019.
Click here to submit your documents.
BMM will announce the scholarship decisions to all participants in late May or early June 2019
BMM will publish information through BMM Vrutta, BMM email updates, BMM Facebook page
The Scholarship awards will be presented at the BMM 2019 Convention
BMM Awards 2019 
BMM biennially recognizes members of Marathi Community for their outstanding personal achievements and contribution to the society. In the upcoming BMM convention hosted by Dallas Fort worth Maharashtra Mandal, from July 11th through 14th in Dallas, Texas, BMM would like to felicitate these distinguished members of our community.
BMM 2019 Awards will be given in following categories:
❖ Art, Culture and Literature
❖ Science, Technology, Education and Research
❖ Business and Industry
❖ Community Service
❖ Marathi Shala Teacher in North America
❖ Achievements by Youth in any of above areas. (The applicant/nominee must be between 15-25 years to be considered for this category.)
❖ Extraordinary/Exceptional achievement (not covered in above categories)
A selection committee consisting of 2 BMM officials and 3 distinguished members from our community (chosen by BMM EC) will select individual award recipients from the nominations.
The nomination should consist of following information:
❖ Name, Address, Phone and Email of the Nominee
❖ Nomination Category
❖ Brief Resume of the Nominee
❖ Nominee's Achievement/Contribution details
❖ Details of how Nominee's Achievement/Contribution has benefited community
Email your nominations to president@seattlemm.org on or before 12th April,2019.